Uuuuuuuuuhhh… (start of a new story arc)
And now have a look at Aeris dressed as Hit-Girl: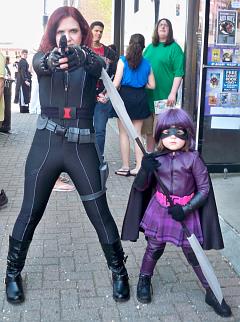 And she has come with her mom, the Black Widow from Iron Man. You are now officially toast!
Yup, the name of the girl is, indeed, Aeris. You can find more pictures of her at the deviantART page of her father Christian-Lee who is a fashion designer and made the costumes. This family proves that even geekery of epic levels can be incredibly awesome. 😉 Of course it is inevitable that she'll cosplay as Tifa sometime in the future. Of course it is now also inevitable that there will be a story arc about the subject involving Cloud and his mom.
Sandra: Cloud, do you think I'm ugly?
Cloud: 'Course not! You're really pretty!

Sandra: Really?
Cloud: Yeah, really.

Sandra: Prettier than Larisa?
Cloud: Uuuuuuuuuhhh…

WALL-E: Dirrrrr-ect-tivvve?
Cloud: Damn Cloud, would a little lie have hurt that much?