Results of the fanart contest 2013 – Top 10
└ posted on Friday, 2 August 2013, by
Novil
I finally made up my mind about the winners of the Sandra and Woo and Gaia fanart contest 2013. It really was one of the hardest decisions of my life ;). Well, that might be a slight exaggeration, but I'm still blown away by the sheer amount of fantastic submissions we received. A big thank you to all artists for all the great fanart they drew for us! As you can see, technical skill wasn't the sole factor for determining the winners, I also acknowledged clever ideas. Also don't miss all the other submissions we received.
—
Place 10 goes to Jessica Chiba. In last year's contest, the second place went to Jessica Chiba's drawing of Sandra, Cloud, Woo and Larisa. This year, Jessica's amazing drawing of Lilith and Ilias barely made it into the top 10 due to the super-hard competition.
—
Place 9 goes to Peter Chuchuligov. Now this is a super cute drawing. If I had any emotional connection to The Little Prince, I probably would have placed it in the top 5.
—
Place 8 goes to Aile D'Ciel. James Woo is about to face his arch-enemy, Northfeld. I hope he hasn't swapped his laser gun with a water gun by accident.
—
Place 7 goes to Leechuts. I love Leechut's art style; Sandra has never been cuter. I just wonder how Woo was able to catapult himself three meter into the air. This would have been a worthy #1 if I hadn't received six submissions I liked even more.
—
Place 6 goes to Joshua Stamford. Despite being not drawn as well as the other pictures in the top 10, I love Joshua's funny parody of Michelangelo's The Creation of Adam. Any other drawing depicting my new favorite goddess would have received a little bonus this year as well.
—
Place 5 goes to Ryan Budnick. Nightcarnivores.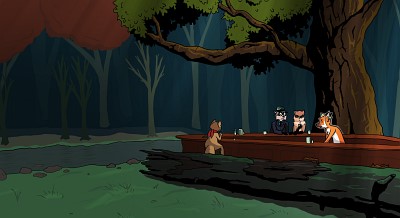 —
Place 4 goes to Tanushka. You just have to love the weirdness of Tanushka's drawing. Its unique art style is even outstripped by its even more bizarre content. Dressed like Victorian ladies, Sandra and Larisa enjoy a cup of tea… apparently right after Larisa has set fire to a tree using her rocket launcher flame thrower.
—
Place 3 goes to Archie The RedCat. Probably the most conventional drawing in the top 10, Archie's drawing shines with its feel-good atmosphere and great technical skill. It's obvious that a lot of time and love for the characters went into this piece of art. Larisa could have used some eyes, though. So it's just place 3 for last year's winner Archie.
—
Place 2 goes to Giulia Beck. This was one of the first submissions I received, and I'm still in love with Giulia's clever drawing. I had to take a second look to notice the altered reflections of our three heroes, but then I liked it all the more. You can tell that Giulia gave her very best to make the picture as good as possible regarding her skills.
—
Place 1 goes to Omi. While I struggled for a long time with the exact order of the other pictures in the top 10, I decided very early to put Omi's outstanding drawing of Gaia's main cast on #1. It's dynamic, stylish and wonderfully colored. You could easily put that on the front cover of any professional manga. Omi must have spent an huge amount of time on this piece.
—
To at least also give the artist on #6 a little prize money, I decided to make a slight alteration to the prize money distribution, mostly taking away some money from #1:
#1: $125
#2: $85
#3: $65
#4: $50
#5: $40
#6: $35
All winners should send me an e-mail to novil@gmx.de with their PayPal account or German bank account information so that I can send them the prize money. If absolutely necessary, I could also send the money with Alertpay and the payment service formerly known as Moneybookers. But that will take a while.