If you are as confused as Sandra, that's kind of the point of this comic. Everything will be explained in the next one.
Update [22 November 2013]: Apparently, world-famous football manager José Mourinho is not as famous among our readers as I thought. Therefore I decided to add a short explanation for Sandra's statement in her last word bubble; just like I did for Ratatoskr in WWRD?.
Update [5 December 2013]: Since only passionate football buffs seem to have understood the original version, I decided to change Sandra's text in the last panel. I have therefore removed all comments since they are no longer up-to-date.
Click on the following thumbnail to see the full drawing of a giant butterfly putting José Mourinho into a mailbox: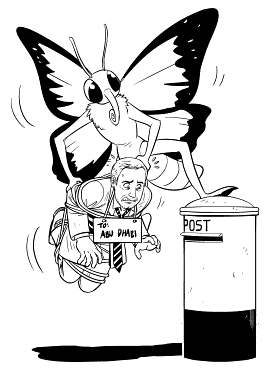 Woo: Sandra, can you ask Richard to drive me to Beech Valley this weekend?
Sandra: That's 40 miles away. What do you want there?

Woo: I want to watch Butterfly sending The Special One.

Sandra: You want to watch a giant insect putting José Mourinho into a mailbox??
Woo: … Not … quite.