Results of the artwork contest 2015 – Places 11 to 25
└ posted on Thursday, 27 August 2015, by
Novil
It's time to present the submissions placed between the positions 11 and 25 of the Sandra and Woo and Gaia artwork contest. Once again, we received lots of great and diverse pieces of artwork! I would like to thank again all artists who have submitted a drawing! Don't forget to check out the first batch of submissions which I posted on Monday.
Please show your support by visiting the artists' websites and writing a comment in the comment section of this blog post!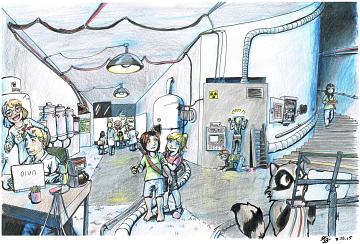 Place 25 goes to Rebecca Gundlach (website)
Rebecca's detailed pencil drawing didn't reach an even better position since it seems a bit random what the characters are doing. But it's nonetheless great to see so many Sandra and Woo characters in one drawing.
[Artist's comment: It is called "Take Your Child to Work Day" and drawn with colored pencils on DIN A3 paper.]
—

Place 24 goes to Hukley (website)
Nintendo fanboys will particularly enjoy Hukley's crossover.
[Artist's comment: Sandra and Woo goes Nintendo.]
—

Place 23 goes to SHaDoW-WHiSPERER (website)
Ars being heroic again. This time he's fighting against a giant octopus. It takes a little to completely understand what's going on in the picture.
—

Place 22 goes to Spiritclaw The Cerret
One of several drawings featuring Woo's family in the top 25, and a particularly cute one.
—

Place 21 goes to FudgemintGuardian
I really like the 3D effect that makes it look like this drawing of San de Vertis was itself drawn on a torn piece of paper. Fudgemint reached the top 24 of last year with a pencil drawing of Ilias and Lilith as well.
—
This is a simple drawing, but I really like Sid's line and the facial expressions of the characters. Matthew drew a similarly funny pic featuring Larisa last year which made it into the top 24 as well.
[Artist's comment: Sid [is] regretting his decision to babysit Woo's and Lily's kits (though the idea of Lily allowing someone else to look after her kits is preposterous). Didn't have a good idea for the background so I just added some colour so it wouldn't look boring.]
—

Place 19 goes to Heather Scott (website)
Heather' watercolor drawing of Lilith, Viviana and San has a couple of really strong elements, in particular the symmetrical layout and how the girls' skirts are arranged.
[Artist's comment: I did my piece in watercolor […] I don't know if it's because I'm writing a fantasy story that makes heavy use of the number 3 itself, but I kept seeing the number all over the comic. When I saw the symbol in the middle, I knew that I HAD to draw a mandala of sorts using it. The girls were another instance of 3 that I picked up on (they're all talented, important, and from different regions), so they were an obvious choice to go with the symbol. The gold Celtic braid was included to imply a shield, which is a barrier and is inspired by the chapter title "Breaking All Barriers."
The decision to do this piece entirely in traditional media was because I had been a little overloaded on the digital art work lately and wanted to have fun with my paints. It was done in watercolor over top of black alcohol pigment on Canson multimedia paper. It is 13 inches in size.]
—

Place 18 goes to Yenrou Humuni (website)
Another Nintendo themed drawing. The strongest points of this drawing by Yenrou, whose Gaia related drawing even reached position #6 last year, are the coloration and the on-model design of the characters.
—
This great idea of Cloud's family fighting against a funny-looking monster coming through Yuna's wormhole is lacking a bit in its execution. For example, the menu is only resembling the one in Final Fantasy VII, not based on its actual design.
—

Place 16 goes to Jennifer Zhu (website)
I really like how Jennifer has drawn Lilith in this piece. The composition is also good. I think that a realistic background could have elevated it into the top 10.
[Artist's comment: So, in an alternate universe… Lili is our vocalist, Ilias is first guitar, Vivi is second guitar, Sandril is bass, Alissa's on the keyboard, and Ryn is on the drums… and apparently didn't get the memo to dress up.]
—

Place 15 goes to Reven Grendal (website)
Reven submitted this detailed drawing of Lilith whose strongest point is surely its coloration. But not even drawing abilities of this level were enough to enter the top 10 this year without some kind of additional hook.
—

Place 14 goes to Zsolt Somogyi (website)
This is a funny joke and the characters are looking very much like in the comic. To reach the top 10, the technical execution would have needed to be a little better, though.
—

Place 13 goes to Jylani Amplex
I really like this super cute drawing of Viviana and her favorite horse Casper. Viviana's legs turned out very short, though.
[Artist's comment: It is titled "Casper the Mighty Steed" and is a sweet Gaia themed piece featuring Vivi (my personal favorite character) and her horse Casper. It took around a full week to complete and is my first finished digital artwork. […] Credit for the font work goes to my brother Jadon.]
—

Place 12 goes to Jakub Prantl (website)
Jakub submitted this dark interpretation of the famous scene from Hayao Miyazaki's film My Neighbor Totoro. It's a great idea and the lighting is perfect. This piece still missed the top 10, though, since the raccoon doesn't resemble Woo at all. For example, the shape of his mask is completely different.
—

Place 11 goes to Fhrean Eighth
I was unsure for a long time if I should put this stylish drawing of the assassins responsible for the Red Hall massacre into the top 10. But I eventually decided against it. Sorry, Fhrean.