My visit of the Comic Con Stuttgart 2016
└ posted on Tuesday, 28 June 2016, by
Novil
I visited the 1st edition of the Comic Con Stuttgart last weekend on Saturday. I had a great time and will certainly come back next year, maybe playing a more active role than just that of a regular visitor. I met a couple of other German comic artists, a few Sandra and Woo fans, and saw a lot of cosplayers with great costumes. In this post, you can have a look at all the photos I took and my commentary for each one. You can click on each photo to see a larger version of it.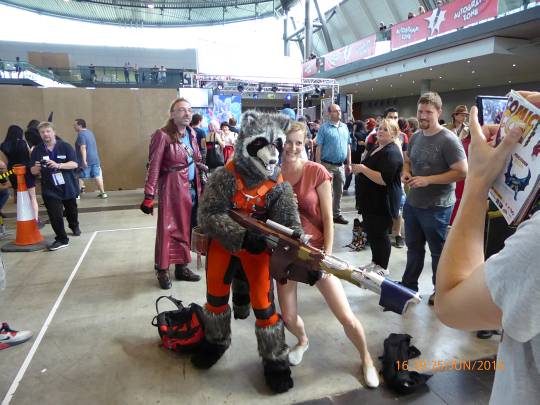 Since I decided to visit the con just a few days before, I had to buy a ticket at one of the ticket counters. But since I arrived early, I got in in-time despite the long line. (Unfortunately, my brand new camera put the date into almost every picture.)

Here's a good overview of the main hall of the convention, just a few seconds after the opening. The hall was too small as it often became quite crowded between the booths. But it was still bearable. Next year, the con will expand to a second hall so there's hope that it won't be that crowded anymore.

There was a large area with awesome LEGO sets which was organized by the team of Bricking Bavaria.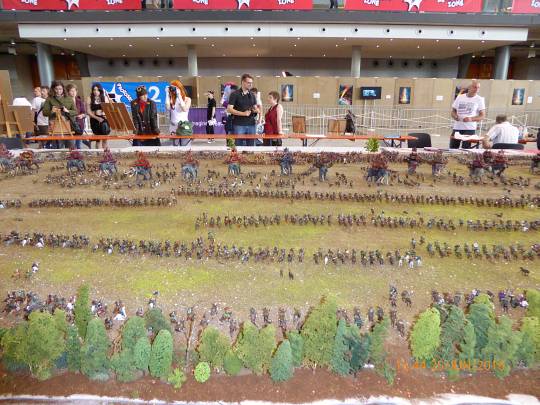 There also was a massive diorama by the 50,000 orcs project depicting a Middle Earth battle.

Here I am sitting next to Sarah Burrini from the German webcomic Das Leben ist kein Ponyhof (English version: Life Ain't No Pony Farm). There was a free seat next to her, so I took the chance and sat down next to her. I spent over an hour behind the counter to chat with her and the visitors of her booth. I also met four Sandra and Woo fans at the con. One of them was a clerk at the booth of the publisher Egmont Ehapa. I was probably their best customer that day since I bought an expensive special edition of The Life and Times of Scrooge McDuck, among other comics.

One of the Bricking Bavaria guys gave Sarah this awesome piece of fanart.

Sarah proving that cartoonists are a sexy bunch of people ;). (Hey, I was just trying to get a photo of her drawing into one of her new books.)

This is Joscha Sauer, one of the most well-known German comic artists. He drew me a little cartoon duck into his new Nichtlustig book I bought. I almost left the booth without paying for it… I also got a nice drawing of the Peter Puck's comic character Rudi in his new anthology. But I didn't take a photo of him.

Kaja Reinki drawing an illustration of her character Tess for me. I didn't know the comic before the convention, but Tess looked a little like Sette from Unsounded so it managed to grab my attention. She really spent a lot of time on my drawing.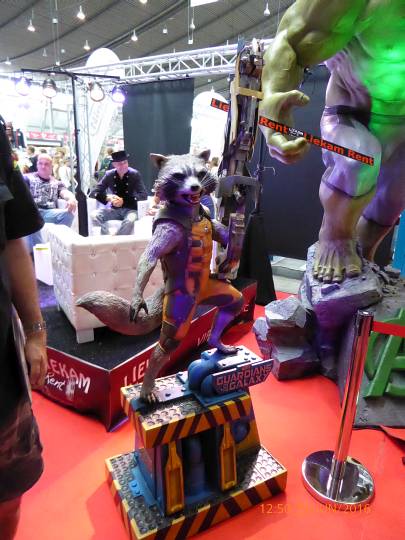 A cool statue of Rocket Raccoon. I should have taken it home. I certainly wanted it more than the booth staff, after all.
Apart from meeting Sarah and the Sandra and Woo fans, the best thing was certainly the huge amount of cosplayers with awesome costumes. It was sometimes hard to take a good photo because the cosplayers were walking away from my position or because too many other people were in the way. But in the end, I managed to take a good amount of cool or funny photos.

Zelda and Link in the entrance hall.

Your typical bunch of superheroes.

This wasn't the only ghostbuster I met. No wonder I didn't see any ghosts at the convention. That was quite convenient since Stuttgart's ghost problem has only gotten worse and worse over the course of the last years.

Captain Germany is ready to save the EU, or to make himself a bratwurst with sauerkraut…

YOU'RE DOING IT WRONG! If Darth Vader ever saw this photo, the guy in the striped shirt will be as good as dead.

Deadpool trying to grap Thor's hammer.

In the cosplay area, I saw this very nice Aeris. I should have talked to her a bit more (and said that I always preferred Tifa ;)). Unfortunately, the camera really adds ten punds in this photo, or even more.

Batman and Catwoman doing Batman and Catwoman things.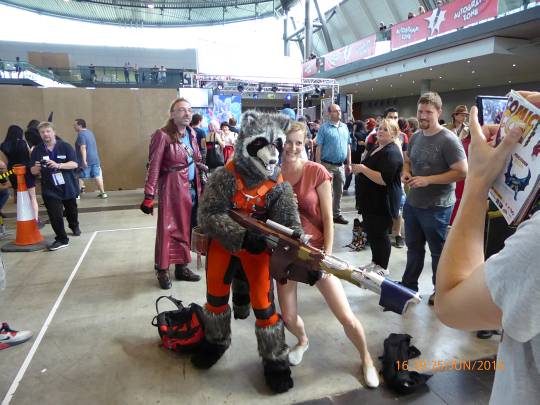 I was thrilled to see a Rocket Raccoon cosplay at the con. He saw that there's a raccoon (Woo) on my t-shirt and gave me a thumb-up.

Starlord doing his dance routine from the end of the movie.

Of course, there were also a lot of anime girls. I was unfamiliar with almost all of them. I only know the most popular stuff like Sailor Moon and the Ghibli movies.

This was one of the most elaborate, and certainly biggest, costumes. I think it's a video game character.

Another massive costume, in this case of a Warhammer character.

A stormtrooper holding a tiny LEGO stormstrooper.

These gigantic, professional Transformers cosplayers were accompanied by tough and fierce soldiers who made sure that everybody got out of the way. The costumes even made electronic walking noises. It was really a sight.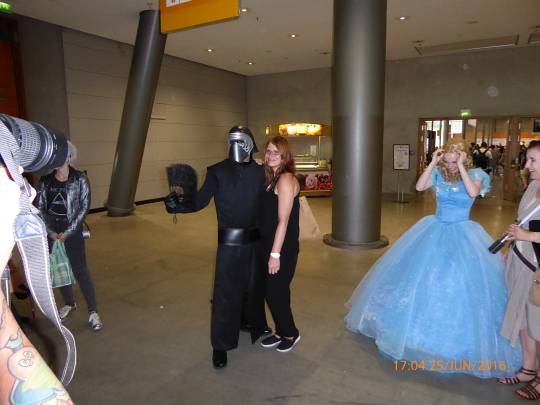 The Star Wars character Kylo Ren showing his feminine side.

I love the pose. But the princess dress is too generic so I don't know if it's meant to represent a specific character.

There were A LOT of Harley Quinn cosplayers. It was probably the most popular character. Thankfully, all of them were at least moderately attractive young women.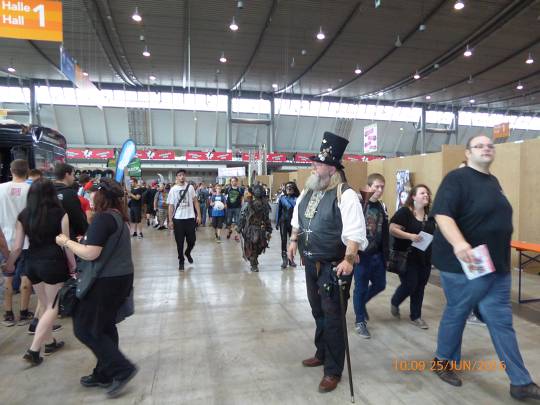 There were also several Steampunk inspired costumes. I really liked how detailed they were. The man wore some kind of mechanical device on his back which showed beautiful light effects on a cicular display.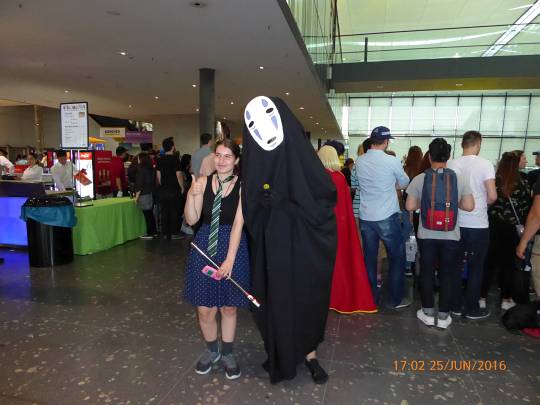 When you just don't want to spend 100 hours to build a fully functional mechanical arm for your steampunk cosplay… I also saw a Princess Mononoke, but I didn't get a photo of her.

No comic convention without fursuiters. The fursuits are pretty well done, I think, in particular the lynx costume.

The cosplay competition was way too full to get a decent seat so I rather spent my time in the main hall.

Typical merchandising booths that didn't interest me much since I had better things to do.

The last visitors are leaving the convention.

Here's one of the four stages. I didn't find the time to listen to one of the presentations, though.

In front of the convention building, I encountered these Super Mario action heroes. Hey, Nintendo, wouldn't that be an interesting game idea?
In conclusion I can say that I met a lot of very friendly guys and girls at the convention and that I had a great time. I'll definitely be coming back next year (1st and 2nd of July 2017).