Results of the artwork contest 2016 – Places 13 to 25
└ posted on Saturday, 27 August 2016, by
Novil
It's finally time to present the submissions placed between the positions 13 and 25 of the Sandra and Woo and Gaia artwork contest. There are some great works of art to be seen here, partially thanks to the extension of the submission period. I would like to thank all artists who have submitted a drawing or other piece of art. Don't forget to check out the first batch of submissions which I posted on Monday.
Please show your support by visiting the artists' websites and writing a comment in the comment section of this blog post!
—

Michael Masukawa (website)

This submission by Michael is not actually in the top 25. I put it in the wrong folder on my PC and missed to post it on Monday together with the other submissions that missed the top 25. I'm sorry, Michael, but it's always a lot of work to organize everything correctly, so mistakes like that can always happen.
[Artist's comment: I felt bad for poor Shadow and Sid, so I made a comic book cover for the greatest story never told!]
—
Sandra, Woo and Larisa as fearless space adventurers who are somehow able to breath in space. Maybe thanks to a spell cast by Larisa.
—
The swamp monster and its minions won't stand a chance against Cloud and his team of heroic fighters! The similarity of the poses in this and the previous submission is striking. Sandra and Larisa are even standing on the same positions.
—
A nice pencil drawing of Ilias and Viviana with particularly good looking clothes. But the story that comes with it (see below) is much better than the work of art.
[Artist's comment: Your contest may have saved a life. For my entry I ran out of a marker I needed. So my mom and I went to the mall for markers and other shopping. On the way in we noticed an elderly lady sitting in a car with the window open. We didn't think anything of it at first, but as we left the store after an hour, she was still there, this time with the door open. It was blazing hot today and she was shaking. We were very worried and tried to help by getting her cold water and a cold washcloth for her head. She was unable to walk on her own. We had security look for her daughter in the mall, but she didn't show up until an hour later.
She seemed okay finally, after we gave her water, but she may have been in the summer heat for over three hours (we know she'd been there for at least two.)
If not for your contest we wouldn't have been there to help her in the first place. So thank you.]
—
A really cute small figurine of Sandra in a chibi style. I particularly like the hair and the book. I'd have liked to see some proper feet on Sandra, though.
[Artist's comment: Made out polymer clay and painted with acrylic paint.]
—

Place 21 goes to Zsolt Somogyi (website)

More swamp monster shenanigans. The last panel is funny, but also very random. Zsolt reached #14 last year with another funny comic strip featuring Woo and his family.
—
"Finding Woo"


Place 20 goes to Brad Johnson

A six pages long story in which Woo is captured by a mad scientist. The story flows well from start to finish, but also comes with a couple of literary issues.
—

Place 19 goes to Lilli Kempf (website)

This is one of the funniest submissions this year. The fur and Woo's face are drawn very well in particular. With a forest background of the same quality, it would have had a chance to make it into the top 10.
—
I always love to get comics as submissions for these artwork contests. Unfortunately, most comic submissions also seem to come with at least one problem. This one is no exception with its incomprehensible fifth panel and Larisa's suboptimal dialog in the seventh panel. That's too bad since the idea is one of the best ever in the history of our contests.
[Artist's comment: Panel 5 is supposed to be a flaming tequila shot: "Oh Larisa, your first shot!"]
—

Place 17 goes to Chelsea Goodman

If you think Larisa's lips look large, you should have seen them in the initial version Chelsea sent me in which they were truly ginormous. I think the succubus looks really good. The blue sphere with Sandra in it also looks interesting.
—

Place 16 goes to Alyshia Z. Kauffman

Alyshia was very creative and drew this interpretation of the genesis of Gaia. I think the planet and the sphere that contains Bhaal are done very well. Gaia looks a bit too much like a New Age version of Mother Earth for my taste, though. Note that there are no other stars or planets in the world of Gaia as depicted here. That would be contradictory to Gaia's origin story.
[Artist's comment: This is an artistic take on what we might see if we were able to look inside of the planet of Gaia.]
—

Place 15 goes to Zach Mitchell

I wonder if Zach works as a graphics designer since this funny advertising page really looks like it was created by one. I like the most that hell is apparently a "people company". It's a bit lacking in originality for the top 10, though.
[Artist's comment: The Devil takes his branding in a new direction.]
—
After making it into the top 10 last year with this drawing of Sandra, Woo and Richard on #8, Aile misses them this year with a submission of almost similar quality. I particularly like the stuffed animals and the red light effects. I'm not as fond of Woo's face which is a bit far away from his usual appearance. This is now the third submission prominently featuring spherical objects in a row, weird…
[Artist's comment: The queen Sandra has obtained a powerful Twiforce orb and become corrupted with its power. Will the brave hero Woo be able to keep the second Twiforce orb away from the queen until he finds a way to revert orb's horrible effects?]
—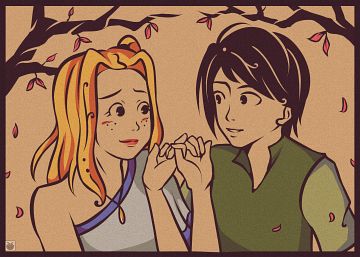 Place 13 goes to KucingKecil (website)

KucingKecil drew this super stylish portrait of Ilias and Viviana. I particularly love the branches and Ilias' hair and face. Viviana's facial features didn't turn out so well, though, which made the submission miss the top 10. There is also the original version which suffered from a pretty strong yellow-green tint.
—
[UPDATE: 27 Aug 2016] For several hours, this list also contained the submissions by Michał Litowiński and Jennifer Zhu on the positions 11 and 12. However, almost immediately after posting this blog post, I came to the conclusion that at least Michał's submission deserves a spot in the top 10. Therefore, I decided to think about the order again and later post a top 12 list instead of a top 10 list which will then include the two submissions removed here. All submissions in the top 12 will receive prize money.