My visit of the Comic Con Stuttgart 2017
└ posted on Tuesday, 4 July 2017, by
Novil
After my trip last year, I also visited the Comic Con Germany in Stuttgart last Saturday. Once again, I had a lot of fun. I met a couple of other German comic artists, a few Sandra and Woo fans, bought some cool artwork, and saw a lot of cosplayers with great costumes. In this post, you can have a look at all the photos I took and read my comments about them. You can click on each photo to see a larger version of it.
Some Ghostbusters got interviewed by the press in the entrance hall before the start of the convention. I only visited the main hall 1, not hall 3 which was focused on movies and TV.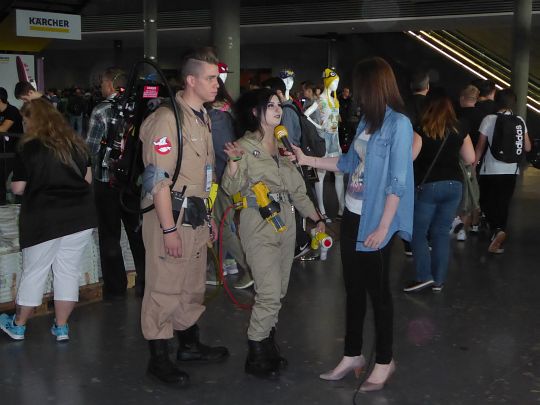 Close behind the entrance of the main hall, there was a Segway course. I took a ride and it was definitely fun for the 10 minutes. One gets used to the unconventional steering fast.

Not soon after, I was viciously attacked by an evil gorn. I was cosplaying as Rintaro Okabe from Steins;Gate. Apart from his clothes, my costume also featured various accessories: the official pin and metal upa (a small toy figure), a red ball pen, a banana, and a bottle of Dr Pepper. I also tried to style my hair, but it didn't work and I had to undo everything in a haste early in the morning. There's just no enough hair left to work with :(. I guess I'll have to get a wig next year.

Fortunately, some trekkies showed up just in time and neutralized the vicious lizard man.

Later, I also met my assistant Kurisu Makise from Steins;Gate. I was very happy to see her, especially after she informed me that she succeeded in acquiring an IBM 5100. Although she was accompanied by another Rintaro Okabe, no time paradox occurred. At least I hope.

Here am I together with Sarah Burrini, the creator of the German webcomic Das Leben ist kein Ponyhof. I spent a lot of time on her aisle to talk to her, watch her draw and talk to some of the other visitors.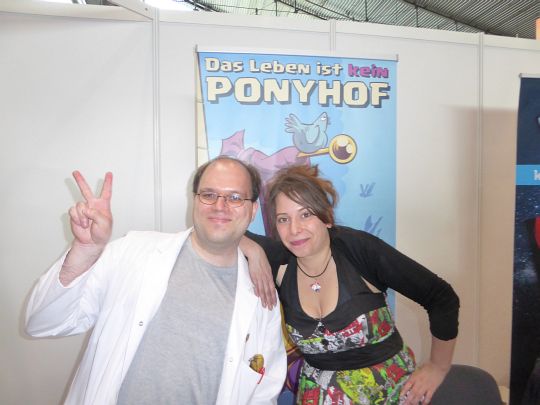 She still owed me a sketch, so I made her draw the following sketch of Larisa doing unholy things with her lips.

Mario Bühling, the creator of the German webcomic Katzenfuttergeleespritzer was sitting right next to her. I commissioned him to draw a sketch of Woo as a mad scientist.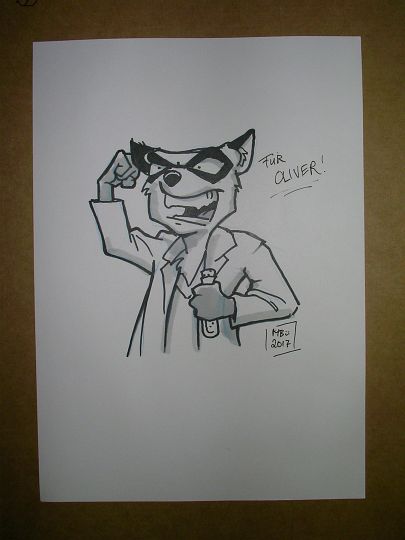 Later, I asked the Disney artist Jan Gulbransson to draw a sketch of Gyro Gearloose in the Donald Duck book I bought. Apparently, I was the first person ever to request that character instead of the much more popular Donald, Scrooge & Co. So he had a little trouble to get him right at the first try. But since I cosplayed as a mad scientist, I just had to get Gyro.

In the artist alley, I discovered this amazing drawing by Loonaris. It was only €30 so I had to get it.

I also was very fond of this weird drawing of Obelix as a manga girl by Andante2 and bought it. Next year, I will have an even more thorough look at the offered original drawings after finding two such innovative drawings this year.

Here I am together with Sandra and Woo reader Cleo who had an aisle in the artist alley. I stayed for a good while to talk to her about various aspects of Sandra and Woo. I also bought a version of her manga. But I did not yet find the time to read it.

Like last year, there was once again a large area with impressive LEGO diorama, this time organized by the Schwabenstein club. I took most of the following photos right after the start of the convention so there weren't many people there yet.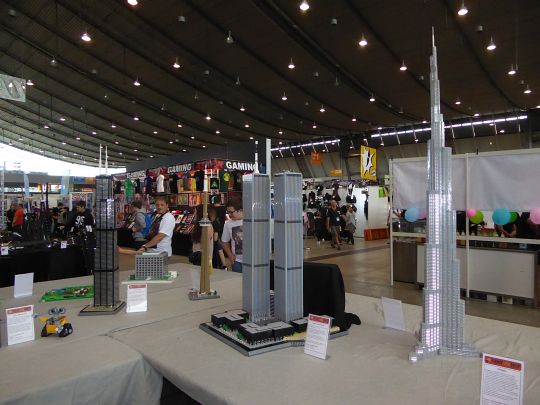 I also liked this Warhammer battle station. I don't think it would fit into my cellar, though. 😉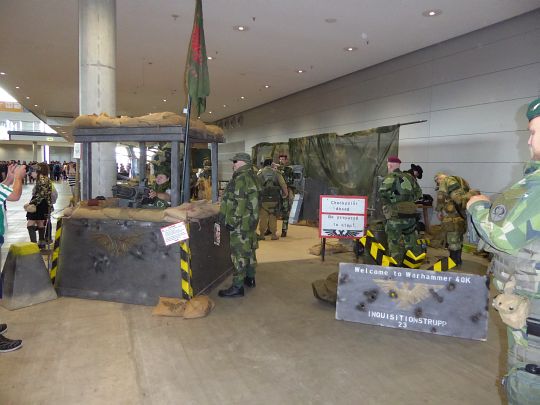 There also were some Transformers. The "costumes" were functional, almost like those battle suits in anime series. I also took a video when two actors where inside them, doing various poses.

K.I.T.T. was also present.

… As well as the Batcar.

Now let's have a look at some of the huge amount of (other) cosplayers. It was impossible to take a photo of each one. There were literally thousands.
The eyes of the jawa were glowing what made them look really cool.

These two looked really dangerous.

Fortunately, officer Judy Hopps was not far away so they didn't dare to do anything weird.

Of course there were a good number of bronies.

A detailed, and highly impractical, steampunk costume. I guess that it's basically impossible to enter the main area with such a costume if you don't want to risk damaging it in the crowd.

I really liked this San from Princess Mononoke.

One of the professional cosplayers at the con.

There were at least two very good Jack Sparrows,… excuse me, Captain Jack Sparrows.

More cosplay. There was an unholy amount of Harley Quinns. But I only took a photo of this rather unconventional looking one if you don't count people standing in the background.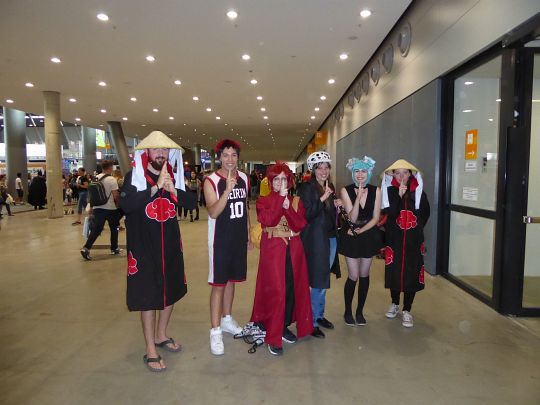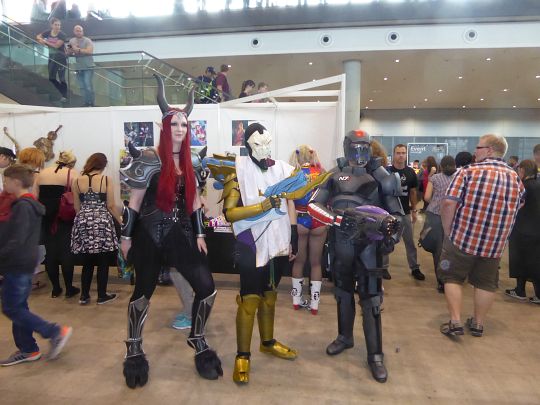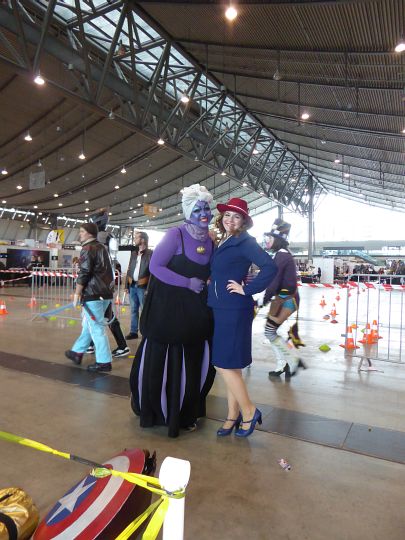 There were a couple of fursuiters. But I found it really hard to get photos of them because they were somehow always walking away from my current position. But I eventually managed to take photos of two of them.

This fursuit looked particularly neat.

This was the main stage of hall 1 where various presentations were given. I din't find them particularly interesting for a comic professional like me, so I skipped them.

There were lots of merchandising shops that even sold off-beat stuff like gunblades from Final Fantasy VIII.

I personally bought this neat WALL-E made out of scrap metal. Very fitting, if you ask me.

Right before the end, I managed to take a group photo together with the Guardians of the Galaxy. I tried to emulate Okabe's signature pose but I guess there's still room for improvement.

And that's it, folks. I will definitely come back next year. The other visitors also seemed to have a good time as you can see in the photos I posted.