My visit of the Comic Con Stuttgart 2019
└ posted on Sunday, 7 July 2019, by
Novil
After my visits in 2016, 2017 and 2018, I also visited the Comic Con Germany in Stuttgart last weekend. It was once again a lot of fun. This time I focused on buying original artwork and chatting with fellow German comic artists. Like always, I also saw an enormous number of cosplayers with great costumes. In this post, you can have a look at all the photos I took with some added commentary. You can click on each photo to see a larger version of it. The article contains the following sections:
Impressions from the fair
Artists I met or saw
Artwork I bought
Cosplay I saw
The LEGO area
Impressions from the fair
The entrance area a few minutes before opening at 9 o'clock:

The main hall right after opening:

Stands for artists and small publishers:

More artist stands:

A great monster statue at the Ghostbusters area:

A view of the main hall from the gallery:

The entrance area of the main hall:

Merchandising stands from above:

Recreation of a battle from Lord of the Rings with miniature figures: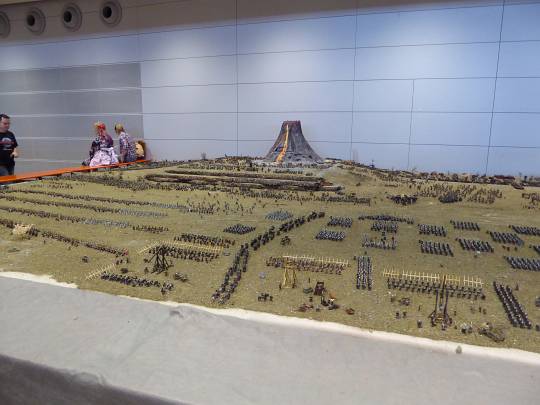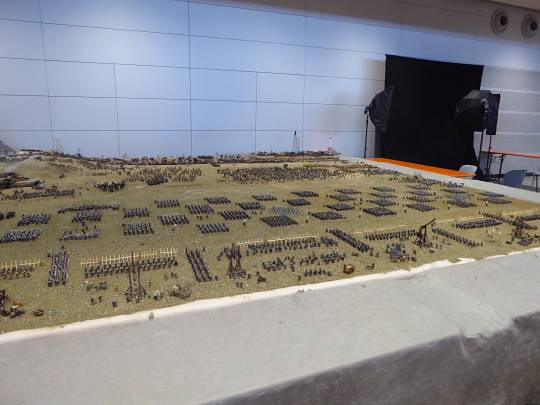 The telephone box from the Doctor Who TV series: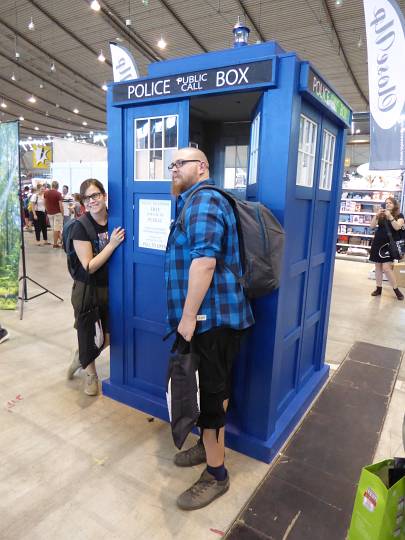 You were also able to fight with light sabers:

Good ol' booth babes! Yay!

Artists I met or saw
Duck artist Arild Mithund gave a short presentation about his work and the medium: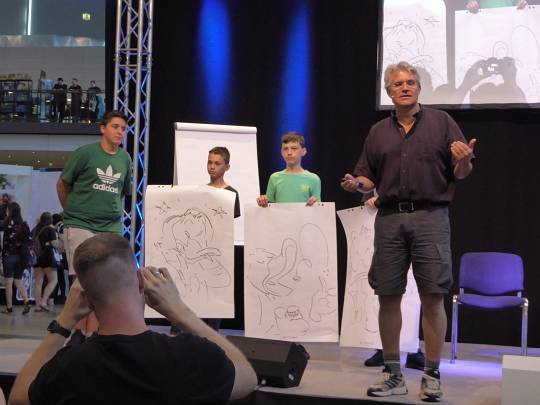 My fellow German webcomic artists Sarah Burrini and Mario Bühling signing some books:

Sarah talking on stage with Andre Lux:

Swabian comedian Dodokay was also present this year again: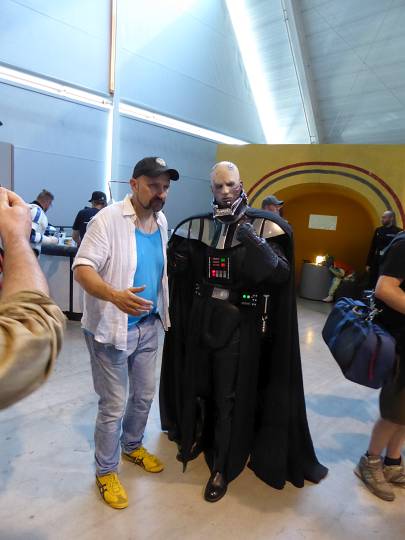 Comic artist and Sandra and Woo fan Cleo-San:

Artwork I bought
I'm always happy to see raccoons in artwork. I can't make out the signature, though. It looks like "Seff", but that does nor sound like a real name nor like a nickname. Goddamnit, artists, how hard is it to put a legible name on your drawings?!

A fantastic bird by Mandy Frank:

A sword by Mandy Frank that goes very nicely with the bird regarding its layout, style and coloration: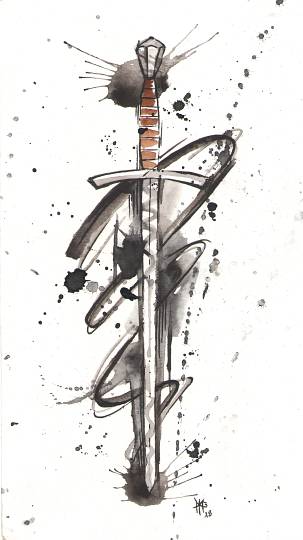 A lovely drawing of two girls in manga style. Without any signature, though. Sigh.

A lovely drawing of a red fox by Cleo-San and four funny monster drawings by Stella Bialek. Unfortunately, I placed one of the wrong way when taking the photo:

Since I still have so many unread comics at home, I bought only one comic, a very nicely drawn fantasy comic:

Artist Florian Biege also drew a great sketch into the book:

A collection of funny postcards: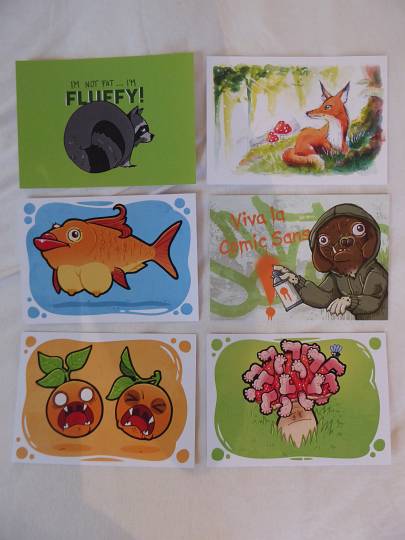 More funny postcards:

More funny postcards:

A print of a fantastic drawing of a tiger with great colors by Lunakia:

An owl in the same style:

He is Groot:

A Disney Infinity statue of Rocket Raccoon. I'm not interested in the game, but the statues have a very good quality regarding their price:

Cosplay I saw
The dinosaur was at the con again, and again he drew a large crowd wherever he went:

Thanos and the Guardians of the Galaxy:

I finally saw a Megumin from KonoSuba! Yay! Too bad she was missing her signature hat. It would have made her costume perfect:

Megumin with Tortoro:

Pickle Rick?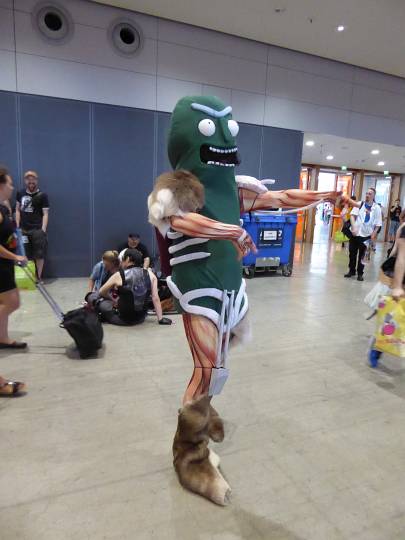 The medusa costume was impressive: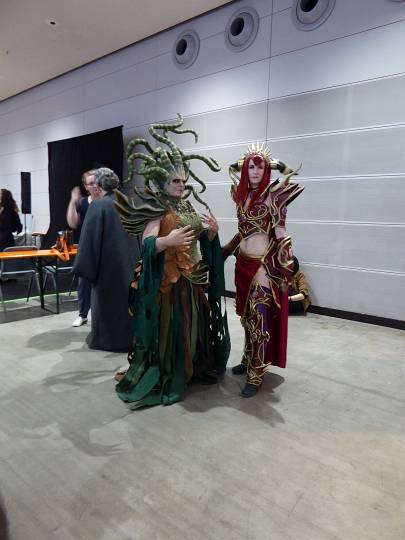 This does not look very practical. So I guess the character is either from Star Wars, from an anime or a Japanese video game:

The Star Wars area was full of semi-professional cosplayers:

A self-made Steampunk costume:

The back bag was particularly impressive with the glowing light bulbs and mushrooms:

ASDF:

There was an awesome Mad Max area with two cars, a motorbike and a large tent: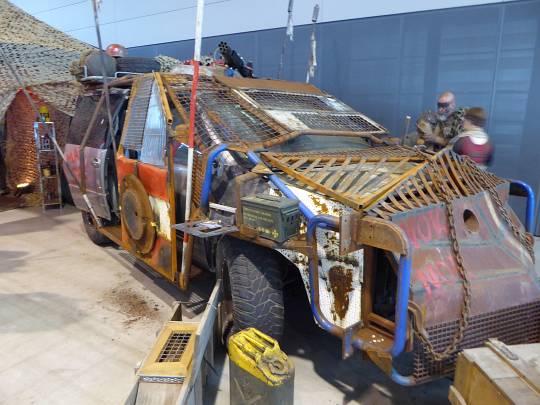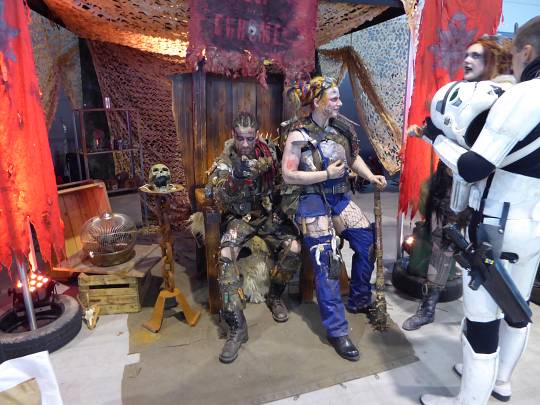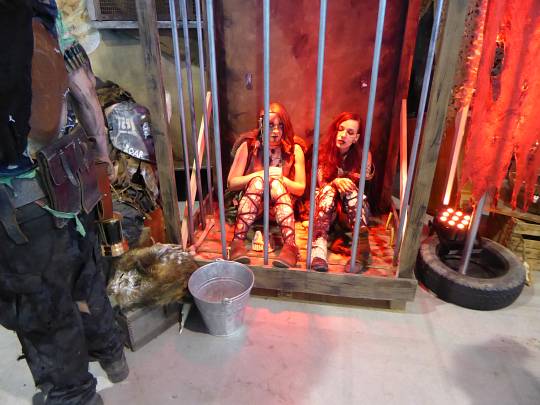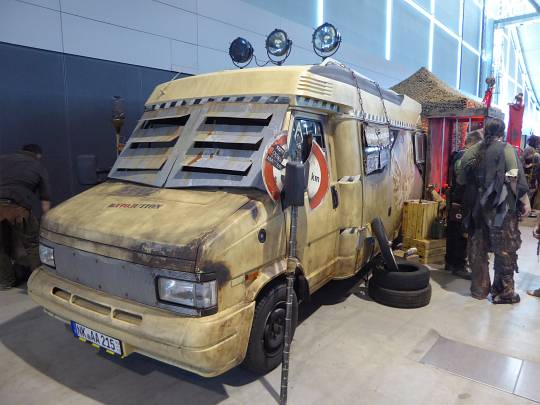 I think this one said that his character isn't based on any existing property: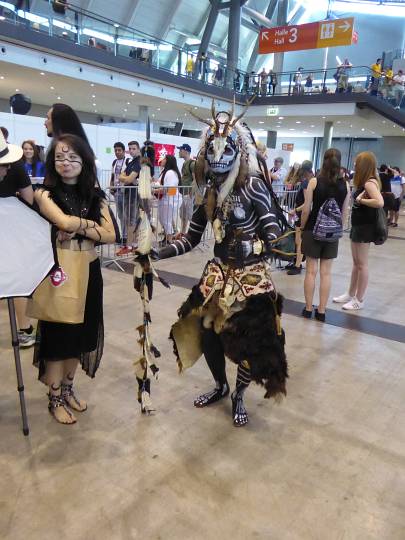 Kick-Ass and Hit-Girl. Hit-Girl is one of my favorite characters so I was very excited so see her:

This Deadpool danced to music he played on his portable music player:

There were some nice photo screens with fitting objects from popular franchises:

All furries go to Hufflepuff: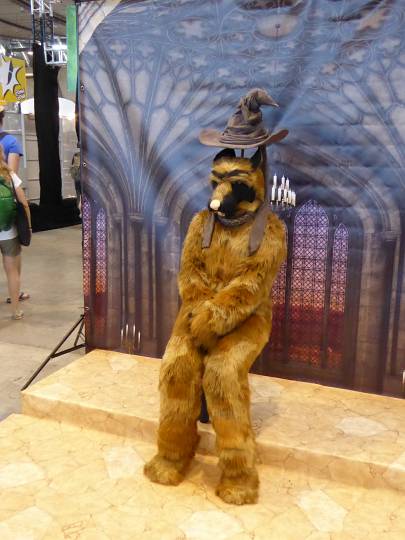 More furries:

I don't know the character, but the costume looked cool: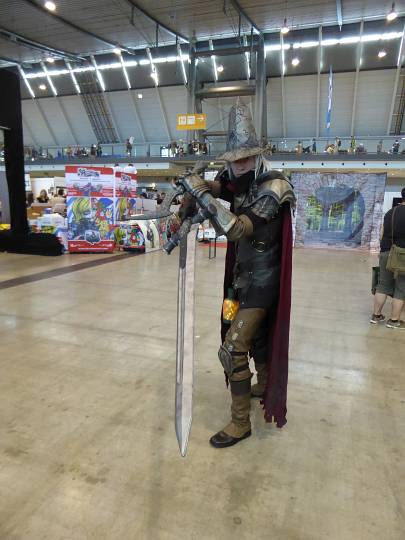 This joker had great facial expressions:

Doctor Who fans in front of the telephone box:

So many cosplayers…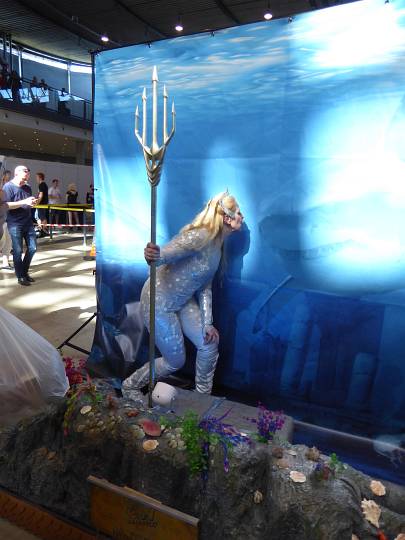 My mother is a big fan of I Dream of Jeannie so she like this photo in particular. To bad that the guy's head does not look like that of Major Tony Nelson at all:

A very convincing Albus Dumbledore from Harry Potter:

Purpur tentacle from the classic adventure game Day of the Tentacle:

These two would actually make a great team (the Dude from The Big Lebowski and Master Roshi from Dragon Ball):

Dumbledore and Voldemort:

Dumbledore, Voldemort and Draco Malfoy:

I found Wally!

More cosplay:

The LEGO area
Photos from the LEGO area without further commentary: