Results of the artwork contest 2019 – Places 21 to 30
└ posted on Friday, 15 November 2019, by
Novil
Here are the places 21 to 30 of this year's Sandra and Woo and Gaia artwork contest. The submissions are ordered from place #30 to #21. I hope you love them as much as I do. In my opinion, there is almost no quality difference between the submissions. My mother also wasn't able to make up her mind about the order of these ten pieces. Powree had a clearer preference if you have a look at her placements.
Show your support by visiting the artists' websites and/or writing a comment in the comment section of this blog post! Many thanks to all artists who participated! I love to see my characters in all these different styles and situations!
—

Place 30 goes to Antermaris
(Place 20 on Powree's list)
[Artist's comment: My work was based on a "What if…" about how the people inside the castle were preparing for Vivi's speech. I also imagined the situation of Ilias finding one of her first drafts, which she so badly tried to hide, and laughing a little to alleviate the stress she might have from what she was going through. He always looks very playful when he is alone with her.]
Antermaris' drawing is so full of details that you don't know where to look first. The most eye-catching element is probably the delicate ceiling ornament. But I'm also fond of the stone pillars and the shield crest. Have you spotted Lilith in the picture?
—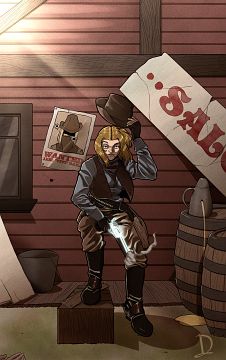 Place 29 goes to DarkDanDesigns (website)
(Place 37 on Powree's list)
[Artist's comment: Similar to last year, I wanted to take the idea of Gaia and set it in a different genre. It took me a while to storm the idea, but I really liked the idea of Vivi as an outlaw with a "Wanted" poster going by "Jael 'Vivi' Bara".]
Like most other drawings in this listing, DarkDanDesigns' entry shines with a very competent color composition. I particularly like the lighting on Viviana's revolver and her pants. The only thing I think didn't turn out so well is Viviana's face.
—

Place 28 goes to Henrietta Mrena (website)
(Place 27 on Powree's list)
[Artist's comment: A mixed media artwork of Sandra and Woo. The characters were done in 3D and the background was made digitally in 2D. The rendered model was also modified in the 2D drawing software.]
Henrietta spent an insane amount of time on these 3D models. Time well spent since they turned out very well. The background also works very well together with the 3D models, which definitely isn't something that's always the case.
—

Place 27 goes to Tonyz
(Place 13 on Powree's list)
This is the second submission I received this year where I immediately thought: "A Russian artist must have submitted this!" And this time I was right! The anatomy of Sandra and Cloud is a bit wonky, but the raccoons look very good. I also love the lush forest scenery that is drawn in a style that reminds me a bit of both impressionist and expressionist paintings.
—

Place 26 goes to Din-yin (website)
(Place 11 on Powree's list)
[Artist's comment: Let's just say they need cookie justice.]
While simpler in subject and composition that most entries presented today, Din-yin's drawing features the best character models. Sandra and Cloud turned out very nice, but the clear highlight is Woo with his almost perfect facial features. I also like the cartoony design of the pigeon that looks very funny with the big cookie in her peak.
—

Place 25 goes to Tearu (website)
(Place 10 on Powree's list)
The amazing lighting is certainly the strongest point of Tearu's recreation of the iconic scene pictured on page 49 of the current chapter The Last Queen of Gaia. I also like how well the character is incorporated into the background.
—

Place 24 goes to Gatekid3 (website)
(Place 39 on Powree's list)
[Artist's comment: Playing with Fire – When I wasn't spending time on the first entry, I decided to work on a drawn entry since I really liked the idea of Larisa kind of being the mastermind/driving force behind an arc similar to the Divine Comedy, which was my favorite arc out of everything.]
I'm not particularly fond of Larisa's face, but Gatekid3's drawing has enough other strong points to make it into the top 25. Most importantly, the character design of the puppets is great. The coloration works very well and the low, tilted camera gives the whole scene a very dynamic look. I also found it very clever how Larisa's braid transitions into the bonfire.
—

Place 23 goes to Airis Kiahin
(Place 36 on Powree's list)
[Artist's comment: Warmth, cuteness and Woo! What else do we need this autumn? :3]
The wonderful coloration is the highlight of Airis' drawing of Woo. Grass has never looked so good in deep red. But let's not forget the very well drawn fur, in particular on Woo's tail and the lifelike paws.
—

25.9 MB
Place 22 goes to Aisea Peralta (website)
(Place 22 on Powree's list)
[Artist's comment: Vivi, Lili and the group have grown close to my heart, and although the story isn't over yet, I feel nostalgic and look back at the very beginning.]
Aisea's animated version of the cover page of Gaia may not be particularly innovative, but she gets a significant bonus for submitting the first classical hand-drawn animation. Just like the first cosplay would also have received a bonus if I had received such a submission. She drew around 40 foreground frames for it which certainly too a long time to do.
—

Place 21 goes to Stuart Green
(Place 41 on Powree's list)
[Artist's comment: The image is inspired by the works of Jan Van Haasteren, in case you're wondering about the shark fin.]
The technical drawing quality of this piece is certainly not as good as that of many worse placed entries. But Stuart really made the most out of his abilities with this exuberant party picture full of references and gags. Since this is the artwork contest celebrating the 10th anniversary of Sandra and Woo, such a submission deserves a little bonus in my eyes.
Stuart also provided an alternative version in black-and-white.