Don't miss to check out the following news post with the submissions ranked #13 to #25 of our yearly Sandra and Woo and Gaia artwork contest.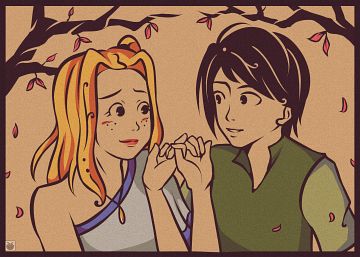 Ilias: … I really didn't expect that.

Ilias: But yes, I'd love to marry you. You're every bit as beautiful as you're clever and brave.
Viviana: Oh, Ilias, that's…

Viviana: When all of this over, we'll celebrate our wedding right under the Great Tree. Salacea will give a speech, and Lili will cast some giant fireworks.

Viviana: And we will eat and dance like kings under lavender skies.

Ilias: And Ryn will stumble and fall into the wedding cake.
Viviana: Haha, most definitely.

Ilias: Sleep well, my brave little dragon.