Diary
4 May 2019
All right, despite my still not greath health, I've begun working on the American books:
I designed and ordered an adjusted version of the stencil with an additional bridge at the top of Larisa's head. I hope that this will make it easier to paint her.
I added the two signature lines for the "Freedom! Justice! Cookies" line and my signature to all books. I had hoped that the interior of the covers already come with these lines, but Ka-Blam sent the covers without them. So I had to add them by hand today. *Sigh*
Tomorrow I want to add my signature to as many books as possible. Note that I will only be able to work on the books on the weekends. I hope that everything will be finished by the end of this month.
13 March 2019
The UPS guy was here and took all 42 packages that will now be delivered to Aimplify.
I have also paid Aimplify's invoice.
10 March 2019
All parcels are now ready for shipping to Aimplify's distribution center! They will be collected at my house on Wednesday by UPS.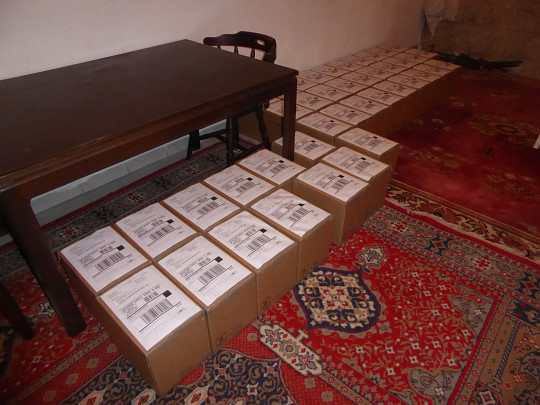 9 March 2019
I worked tirelessly to pack all books, and all 42 packages are now almost ready for shipping!
I provided Aimplify with an Excel sheet containing all shipping addresses. I plan to send the books to them next Wednesday with UPS.
7 March 2019
I have paid Ka-Blam's invoice for printing and shipping all books to our U.S. customers. They will send the covers to me on 8 April, so that I will be able to work on them soon after my return from my Japan trip on 13 April.
6 March 2019
I have bought material to pack the 40 packages to be sent to Aimplify: boxes of the right size, bubble wrap, duct tape, etc.
I have begun packing the first packages. 5 are almost ready to be shipped. This is also a lot of work, for example cutting the bubble wrap into the right size.
5 March 2019 [2]
I have finished the work on all Special Editions for the international customers! I created a good number of additional books with the stencil so that all backers get a copy where Larisa, the hardest character to paint, looks decent at least.
I have never worked so hard in my life!
5 March 2019
This is what hard work looks like: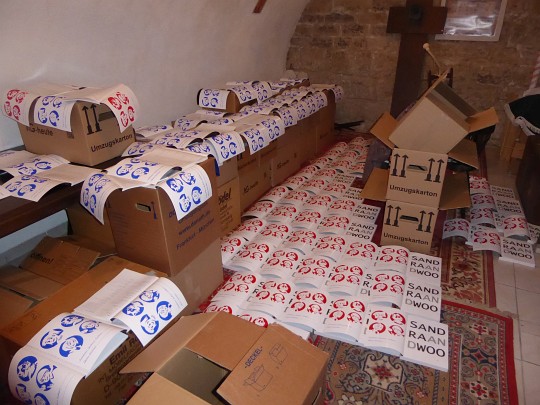 4 March 2019
I'm working like a maniac to get the books ready so that I can ship them to Aimplify this weekend.
Larisa is my nemesis! That means the part of the stencil showing her. She was already the hardest part for the art book, but for the anthology it's downright impossible to paint her without messing up her outline. I tried everything, but no technique works consistently. The cover page of the book is just not flat and stable enough. I mean I can't put a brick on it when I have to paint on it… The U.S. version should be much easier in comparison. I will only get the covers from Ka-Blam, without that darn book attached to it.
She's sorta acceptable most of the time, but if you happen to receive a copy of the anthology where she looks good, you may praise the Lord! Because there are only a handful of those. There's a good number of copies where she (or another character) looks rather bad. I will not use those copies for the Special Edition orders and send them to the backers who ordered normal copies instead. I mean it's still hand-made artwork and better than a blank page in my opinion.
2 March 2019
I have worked 10 hours today, signing the books like there's no tomorrow! I have now signed all 300 books of the international version of "The Art of Sandra and Woo" and 200 books of the international version of "Sandra and Woo: 10 Years". Tomorrow, I will sign the remaining 200 books of "Sandra and Woo: 10 Years".
I will receive the covers for the US version after my Japan trip in the mid of April. I would not have time to sign and sketch them before my trip anyway.
I wrote a lengthy email to Aimplify about all remaining open issues regarding the shipment to the international customers.
There's good news regarding the issue with the spine of the international anthology. I asked my mother if she noticed anything regarding the cover and she said she didn't. I then notified her about the spine bleeding into the cover and she then said that it doesn't bother her at all and that she thought it was supossed to look this way. So I guess it's a really minor problem after all.
The 3 month delay until the shipment of the books has been caused by: 1 month because a lot of people took ages until they gave me their delivery address. 1 month because of a lot of work that had to be done regarding taxes. 1 month because of my Japan trip which is ultimately also caused by the two former causes since they pushed everything back two months.
1 March 2019
I've gathered info regarding the shipment of the books for the international customers to Aimplify who will then send them to the individual customers. I think I will buy 30 A4 packages ("2-wellig") at 31 cm x 22 cm x 30 cm and ship them with DPD. That seems cost-efficient and easy. But I will consult Aimplify what they have to say about the matter.
28 February 2019
I've finally received the invoice by Ka-Blam for the U.S. customers. I don't think the covers will arrive here before my Japan vacation from 17 March to 13 April. And even if they did, it would not make a difference since I would be in Japan and the books in Germany.
I want to make clear again that all books will receive my signature and the "Freedom! Justice! Cookies!" line! This way, all books will be individual works of art (broadly speaking) which is very favorable regarding potential discussions with the tax office about the exact commercial nature of this endeavour.
The anthologies for the international customers have a minor graphical issue as the image used for the spine bleeds into the cover and the back cover. It's nothing serious and most people would probably not have thought much about it (or anything at all) since the spine's coloration is rather subdued. But I'm personally quite annoyed by it since I have spent so much time to get everything right. But then I wasn't attentive enough in a crucial moment and Wir-machen-Duck.de printed it wrong. They also send me the books in ridiculously large packages that were impossible to carry. So my experience with them was unfortunately less than stellar. I'm really learning the hard way about all the things that can go wrong when printing over 1000 books for a Kickstarter campaign.
From Saturday to Wednesday, I have five full days available to sign and sketch all the books. I'm confident that I will able to finish all the work (unless the stencil sheet breaks). However, I will probably not be able to ship the books before the Japan vacation. I also don't want to be on the other side of the globe when the packages are on their way. I would just not be able to resolve any issue that may arise.
I have noticed that the download of the Sandra and Woo: The Woo ZIP file (bottom of the book download page) did no longer work since the file was gone for an unknown reason. I have now uploaded the file again.
I will also upload another goodie in the following days.
24 February 2019
I've also add the stencil to the first 16 books. You can see them here:

It's not easy to do, especially Larisa is challenging. Some stencils turned out very well, but some stencils have minor imperfections. I don't think minor smudges can be avoided entirely. They just happen and you can't really do anything to prevent them. I'm actually surprised how well everything went after I had some practice. But it's certainly a time-consuming process regarding that I have to add such a stencil in over 500 books.
I will take several days off in the first week of March to finish all the international books.
I've also received a positive reply from the tax office about my registration and I have the crucial VAT ID now.
Note that I'm on a vacation in Japan from 17 March to 13 April. While I'm of course looking forward to the vacation, it also couldn't have come at a worse time regarding the shipment of the books.
23 February 2019
I forgot to upload the promised PDF of the old book Sandra and Woo: The Woo published in 2009. You can now find it on the bottom of the book download page.
I have received all the printed books for the international customers this week! I will try to sign and sketch all of them as soon as possible and will take a couple of days off for that.
I still haven't received the shipping address of the following people. If your email is in the following list, please reply to novil@gmx.de ASAP:hylharec@gmail.com

agent007@ntlworld.com
Jimbo8250@gmail.com
kick@futterer.org
lordelayna@mail.ru
matt_ffofcsm@hotmail.com
moray@morayblack.com
seansarkar@hotmail.com
skippy@skippylair.net
spockahontas@hotmail.com
tbear22@satx.rr.com
themightydragon08@hotmail.com
viktorbelyaev1950@gmail.com
4 February 2019
I placed the orders! I'm still feeling nervous. But now it's mostly waiting. The books from Wir-machen-Druck.de will arrive at the end of next week.
3 February 2019
I'm in the process of placing the orders. But it will take until tomorrow until all files are uploaded.
… Great, the two major uploads were aborted at roughly 90% each…
2 February 2019
I completed my calculations in Excel and submitted two tax forms based on them. This is a major step towards fullfilling the Kickstarter orders! Tomorrow, I plan to order the books at Wir-machen-Druck.de and the cover pages at Ka-Blam.com.
30 January 2019
I made a lot of calculations in Excel to determine the projected costs of the project. This is necessary for my tax sheets. This was a lot of work, but I'm almost finished now.
I wrote emails to all 25 backers who have not yet given me their shipping address.
27 January 2019
I have now received the Elster authentication code and also a good number of additional surveys from Kickstarter backers. This means I can now do some crucial work towards printing the books next week. I've made sure to have around 10 hours available for that.
24 January 2019
I created new versions of all PDFs, which contain all the corrections listed above, and uploaded them to the download pages.
22 January 2019
I calculated the share of the profits for each artist featured in the art book once the actual profits are known.
I answered messages from several backers.
I fixed additional errors found by readers in the source files of the books. I did not generate new versions of the PDFs yet.
I'm still waiting for the Elster authentication code…
18 January 2019
I registered at the "Elster" tax portal of the German tax authority. I'm now waiting for the autentication code which is sent by mail.
I answered messages from several backers.
I fixed all errors found by readers in the source files of the books. I did not generate new versions of the PDFs yet.
I posted an update on Kickstarter about this diary, a to-do list and the backer survey.
17 January 2019
I collected the backer tables for all reward tiers and put them all into a single Excel file.
I calculated various important metrics in Excel like the number of sold books of each type.
I wrote a message to all backers who haven't filled out their backer survey yet.
I talked to a colleague with many years of experience as independent entrepreneur. He provided a convenient Excel file for tax calculation. Otherwise, he did not mention anything particularly surprising.
16 January 2019
I investigated tax information available on the internet and found several crucial tips. Some of them were pleasent surprises. Some of them were unpleasent surprises.
Errata
New versions online since 24 January 2019! Since then, no new errors have been reported.
Anthology
Page 15: The correct word is "can opener", not "bottle opener".

Page 86: The correct title is "Under a Killer Balloon", not "Under a Killing Balloon".

Page 374: "VII" appears twice, it should read "VII, VIII, IX, X and XI".

Page 466: There was a spelling error in "Einstein's theory of relativity".
Art book
Page 1: There was a spelling error in "Hungarian".