Books for international customers will be shipped soon!
└ gepostet am Thursday, 14. March 2019, von
Novil
International version
If you've followed my Kickstarter diary, you'll have noticed that I've been working tirelessly during the last weeks to make the international versions of the Sandra and Woo books ready for shipment before my Japan trip from 17 March to 13 April.
Today, all books for customers outside the United States have been picked up by UPS that will deliver them to my distribution partner Aimplify which is located in Sondershausen, Thüringen, Germany.
Aimplify will carry out an additional address check to avoid any delivery issues. You will soon receive an email from <no-reply@crowdpilot.com> with the subject "Sandra and Woo – shipping starts soon". Don't forget to check your SPAM folder in the following days.
This email from Aimplify will contain detailed information about the shipping, how to change your address if necessary or how to put the shipment on hold if you're not at home. If you still have any questions about your shipment after reading their email, please drop Aimplify a line at support@crowdpilot.com and put "Sandra and Woo" into the subject.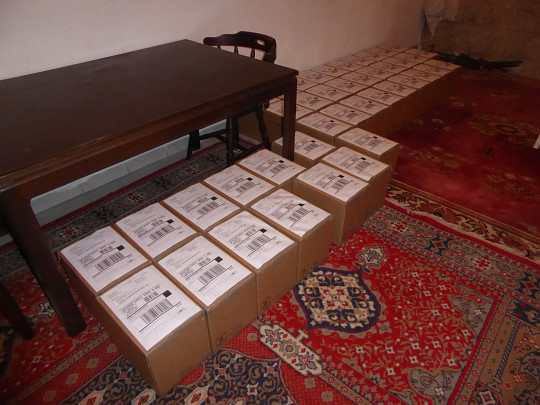 U.S. version
I will work on the books for our U.S. customers after my Japan trip. I have instructed our U.S. printer Ka-Blam to send me the covers in a way so that they arrive here in Germany a short time after my return from my vacation. Once I've received them, I will add my signature to all covers and the stencil to all covers used for Special Editions. I will then send the covers back to Ka-Blam who will then print the interior pages and send the finished books to all U.S. customers.